receiving pretty dress = my sunshine on a rainy day!

It's raining cats and dogs in Sydney right now and surprisingly it got really dark at around 4pm. o.o;

Anyways, the mailman dropped off my order from

ASOS

today.. in the rain... outside my house.

But luckily, he placed it on the veranda where the parcel was able to keep dry! (:

It felt heavy.. and when I say heavy.. I mean like.. >1kg.

As soon as it was in my hands, I ripped it open..

and squealed like a little girl who got her first barbie doll...

not really. but you get the gist. :D

Inside was ..

ONE OF MY PROM DRESSES!

It's a dress from the brand

Forever Unique

.

It's like the cutest thing I've ever seen in my life. (other than Benson.. cheeseeeee*)

Priced at

US$498.56

, I managed to purchase it at

GBP

£

100

(free shipping). Pretty amazing if you ask me.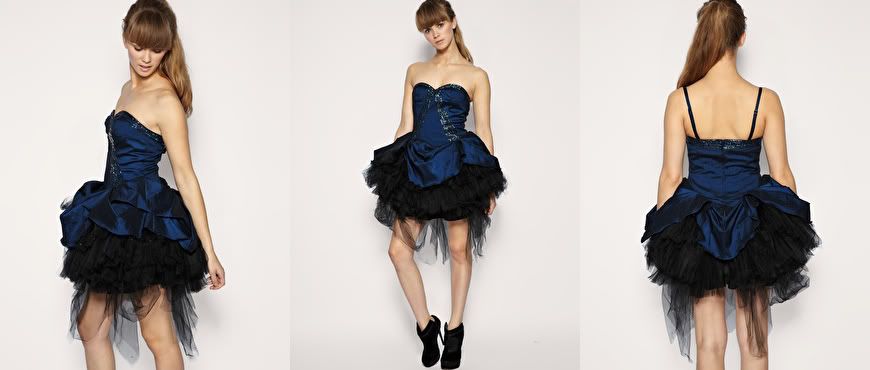 It is extremely well made and all the stitchings and embellishments are perfectly sewn.
Materials include:
- Main: 100% Nylon
- Lining: 100% Terylene
I had to buy the dress in a size UK8 (AU 8-10) because they only have one stock of every size from 6-12 and when I looked for 6 (AU 6-8), I found out that every other size was sold out. ):
But luckily, because the size is still within the AU8 category, this dress fits like a charm!
Attached to the tag of this dress was a very pretty blue silk pocket with the extra straps and embellishment beads! - Even the packaging was more high-end. :O
What I really loved about this dress was how special it looked. There are even sparkles on the black petticoat! Nothing I've seen in any retail stores in Australia. If you're able to find something like this here, then it'd most probably cost a fortune (since Australian retails jack up their prices by an average of 300%).
But yeah.. I'm just totally in love!
♥
♥
♥
❤ "receiving pretty dress = my sunshine on a rainy day!" was Posted On: Monday, May 30, 2011 @6:16 PM | 0 lovely comments ✿
2011 school dance
TECHCON 2011: the annual school dance with St George Girls and Sydney Tech
Us yr12s were allowed to dress up with the theme of "Movie Characters" and our group did
Geisha
s. Other groups included Playboys, Babies, Prisoners of BOS, Disney Princesses, Anime Characters, Mario Brothers ..etc.
mm Overall I wasn't impressed. At All. We were not allowed to take drinks in and when the little canteen place ran out of change, they just closed the store with me holding a $10 note. And this was not even half way through the night! Just imagine how thirsty everyone got afterwards. =.=;
The music was awful as well.. and it was very humid inside the centre...it was just ... bad. ):
But I still managed to enjoy my time with friends so yeah.
Not really worth 10bucks if you ask me. :S
photos from the night:
❤ "2011 school dance" was Posted On: Saturday, May 28, 2011 @7:59 PM | 0 lovely comments ✿
EVERYONE SHOULD GO SEE 'ON STRANGER TIDES'!
PIRATES OF THE CARIBBEAN
WAS THE BOMB!!
It's the second day that it has come out in Sydney and I went to see it straight away with
Benson
after school at
George St Even Cinemas
in
3D V-MAX
.
<333
What did I think of it?
It was so much better than At World's End (in my opinion)
If you're a Johnny Depp fan/lover/hater, then you should go see this movie. This is because it basically doesn't have much of a plot but everything that happens in the movie just makes Depp look awesome.
So to wrap it up the whole movie just revolves around Depp, in turn allowing the responder to awe at his talents the whole damn time. WHICH WAS (to me) AMAZIN' !!!
:DDD
That's all for now~~
Labels: movie
❤ "EVERYONE SHOULD GO SEE 'ON STRANGER TIDES'!" was Posted On: Friday, May 20, 2011 @11:49 PM | 0 lovely comments ✿
« Older posts | Newer posts»